Gallery

Our Reception children would like to thank all of the Grandparents who came to watch their Grandparents Assembly today.
Friday 9th November 2018
Our Year 2 children during our Remembrance Day Assembly.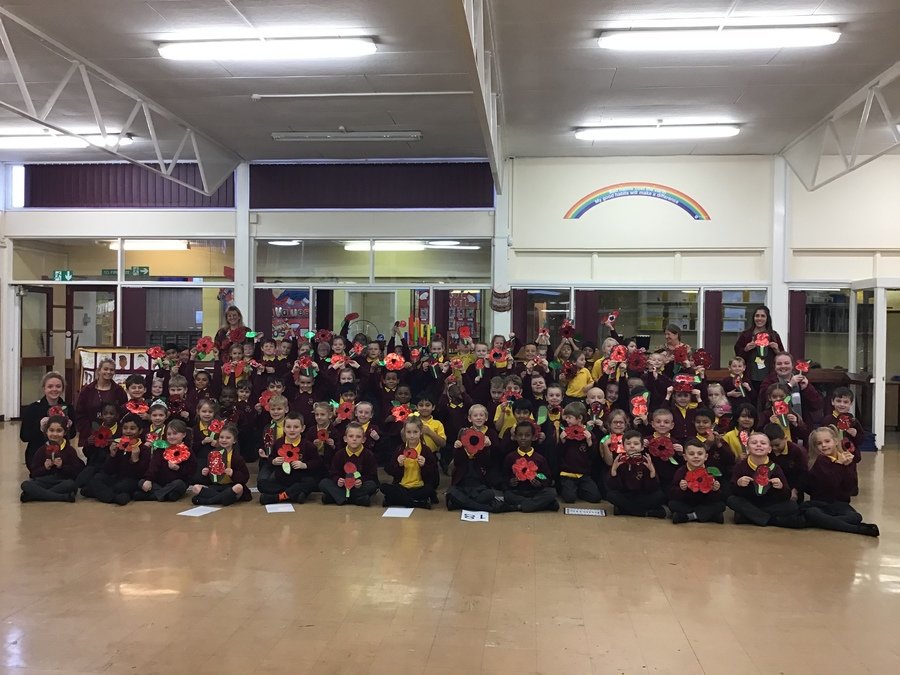 Friday 2nd November 2018
Well done to our King and Queen of Good Manners for November.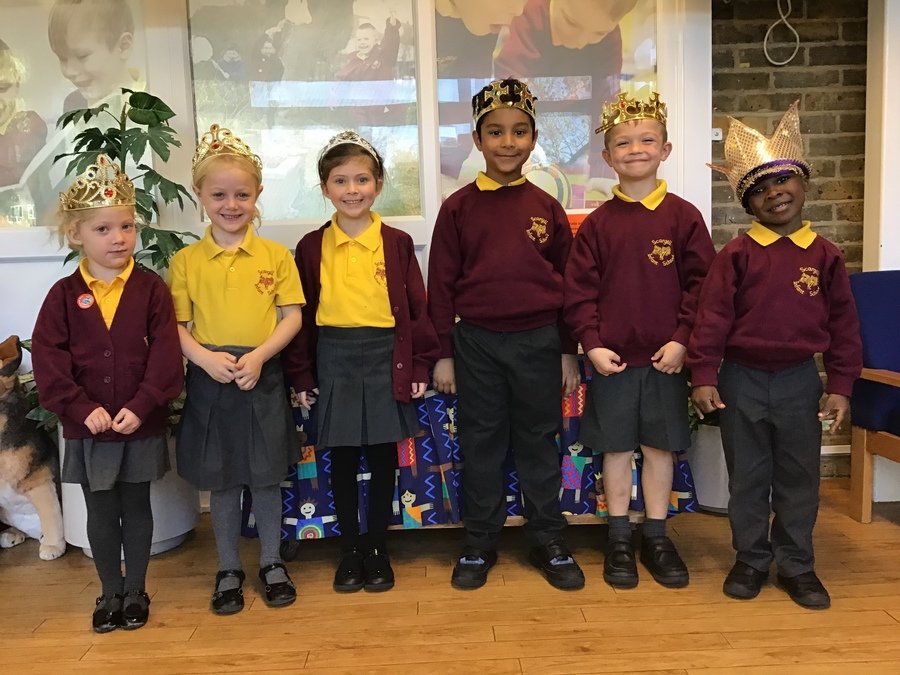 Wednesday 31st October 2018
The children enjoyed a performance from Quantum Theatre today.
Monday 8th October
These children went along to the Remus Horse Sanctuary Open Day yesterday and thoroughly enjoyed sharing their experiences of the day.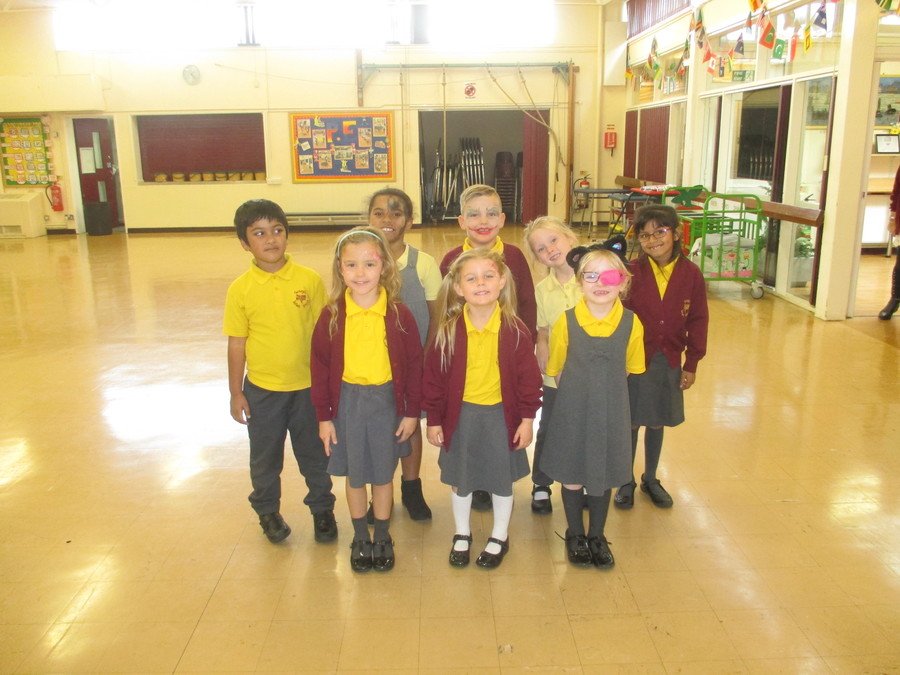 Tuesday 2nd October
Summer Library Challenge pupils were awarded their medals and certificates at a special assembly.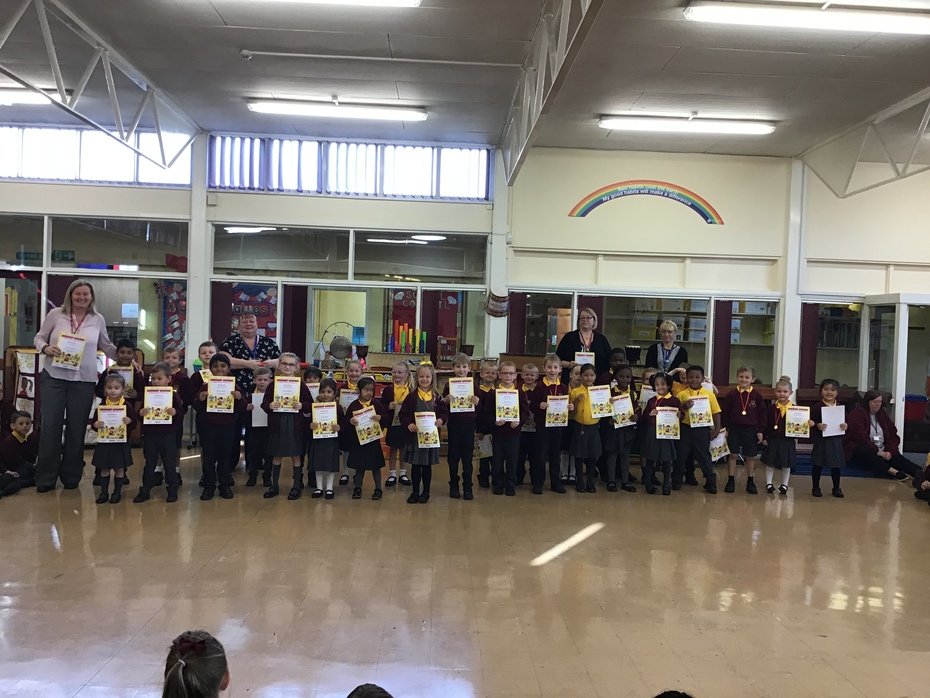 Year 2 Parents Information Evening
Here are the slides that were shown on the evening.
Thursday 19th July.
Well, here we are at the end of another academic year! We've waived farewell to our year 2 at their Leaver's Assemblies. The new reception children have had a visit to meet their teacher and take a look round their classrooms. Reception and year 1 children have visited their new classrooms and met their teacher. Onwards and upwards for a fantastic, safe and happy summer break. Here is a slideshow of the children's special day yesterday with dancing to their favourite music, playing games in the hall and exerting lots of energy on the bouncy castles.

19th July 2018
Good luck Mrs Keeper and thank you very much for the story benches.
18th July 2018
Karl from Kidz Fit visited us today. The children had a lot of fun whilst learning about the importance of being healthy.
Well done to the Year 2 children on a fantastic leavers assembly.
06.07.18
The Year 1 thoroughly enjoyed their Sports and Stripes Day to support their transition into Year 2. They also had had a special visit from a circus performer.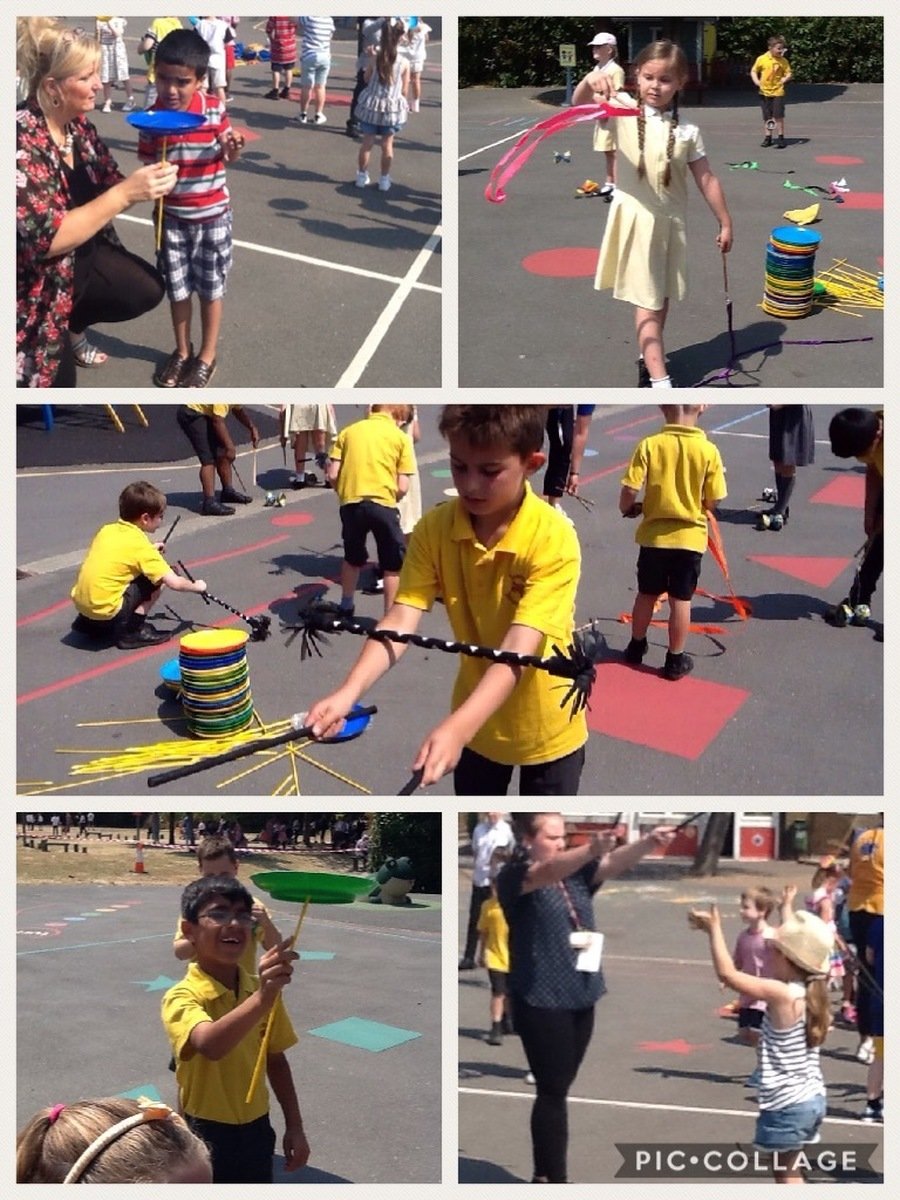 03.07.18
Our Year 2 Dance Club performing to their parents and carers today.
29.06.18
The Reception children have been doing a lot of work based on the book The Little Mouse, the Red Ripe Strawberry and the Big Hungry Bear ready for their move into Year 1. Today they joined the current Year 1 children for some races, dances and strawberries and ice cream.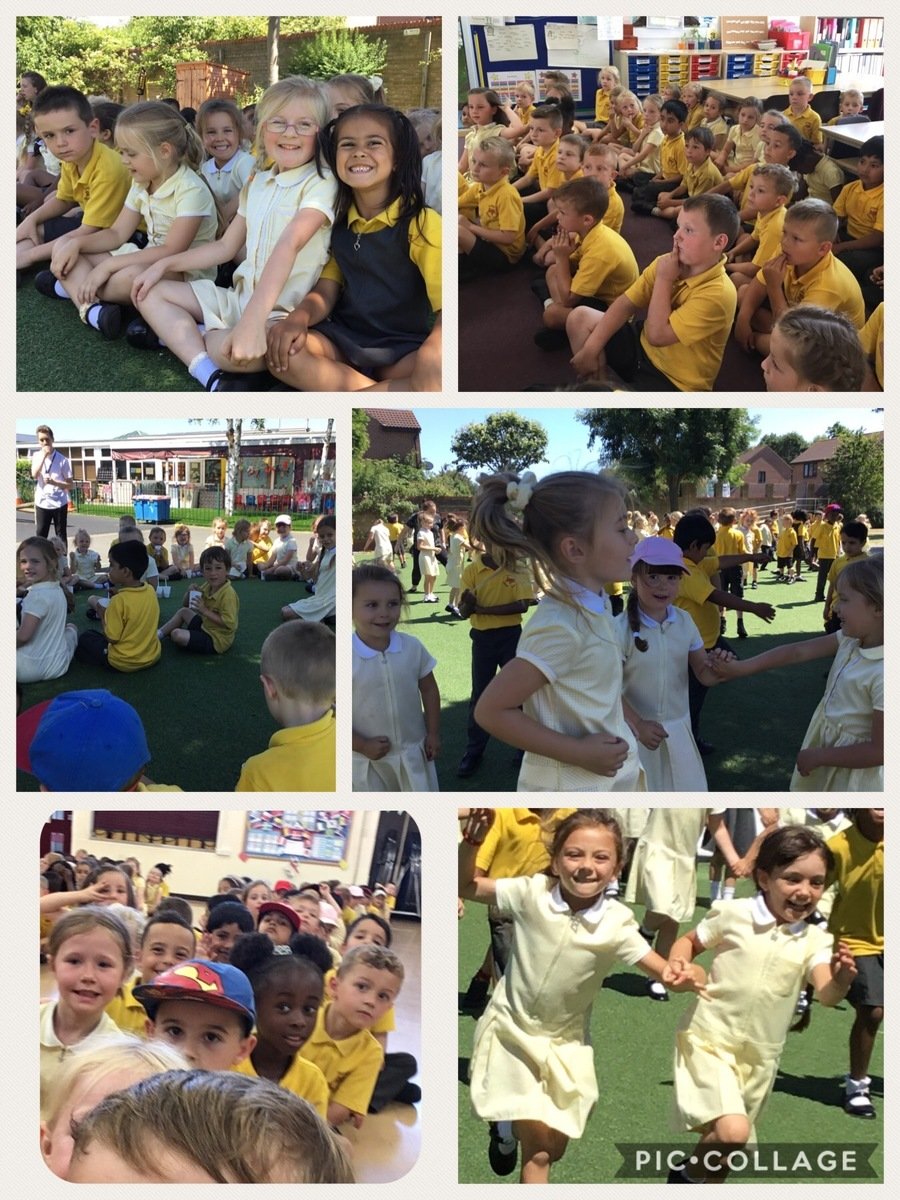 **The Summer Reading Challenge**
Havering libraries are hosting the Summer Reading Challenge again this year with the theme being Denis the Menace. The children have to read one book from the Library each week in order to get a certificate and a gold medal when they return to school in September.
Happy reading :-)
20.6.18
Today we had an African Drumming company visit our Year 1 and 2 children. As you can see from the children's faces they really enjoyed their sessions.
14.6.18
The children thoroughly enjoyed the start of the World Cup. They learnt dances from different countries.
14th June 2018
We would like to share with you a story written by one of our Year 2's that she read to some of our Reception children.
Tea & Cake Morning Thursday 24th May
Thank you to everyone who came to our first tea & cake morning. It was really well supported by those donating cakes, helping to serve as well as donating money for cups of tea. All monies raised so far (£145) that's without the donation pots from the tables will go to support the Cats Protection League. Their vision is a world where every cat is treated with kindness and an understanding of its needs. Here are some photos (with everyone's permission) of the successful morning.
Our Celebrations for the Royal Wedding of
Prince Harry and Meghan Markle
We all had a great day on Friday 18th May, the day before the Royal Wedding. Everyone dressed up in red, white and blue. The school was adorned with Union Jack flags and streamers. In the afternoon we went onto the school field, listened to music and had either a lolly or ice cream. Here are some photos of the day.
Class 8 celebrate Prince Louis
Class 8 have been making cards to celebrate the birth of Prince Louis. They have sent them off to Kensington Palace and now it's a waiting game with fingers crossed that they receive a reply!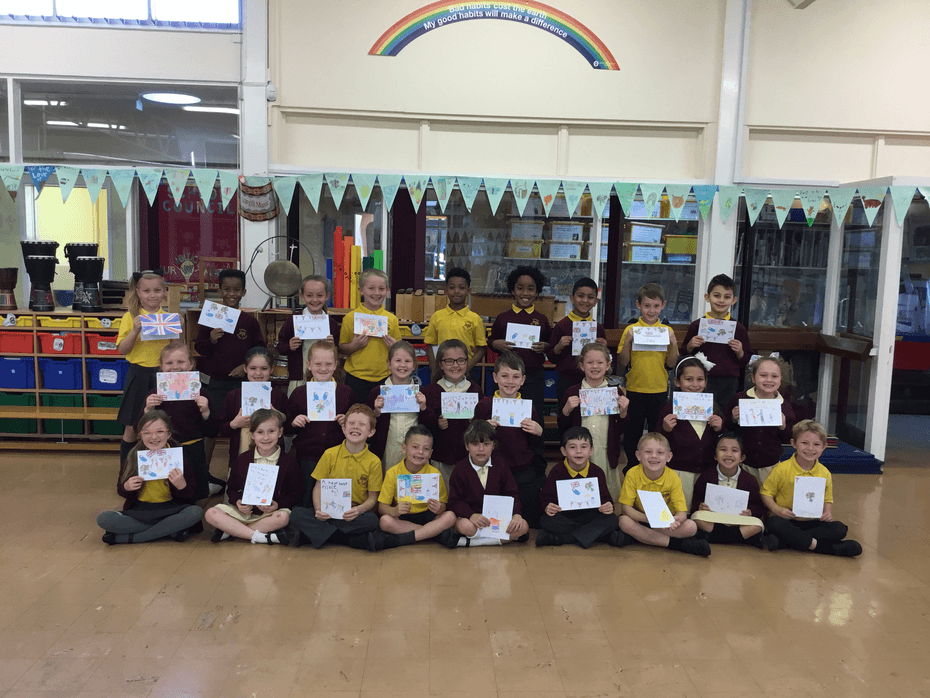 4th May 2018
We had a visit today from Well Gate farm.
4th May 2018
Congratulations to Class 5 who took part in their class assembly today.
19th April 2018
The children learnt an important message today from a local theatre company. The importance of how to save water.
19th April 2018
The sun couldn't have chosen a better day to appear. Mr. Keeper has been taking groups of children out to the vegetable planters and showing them how to plant potatoes today.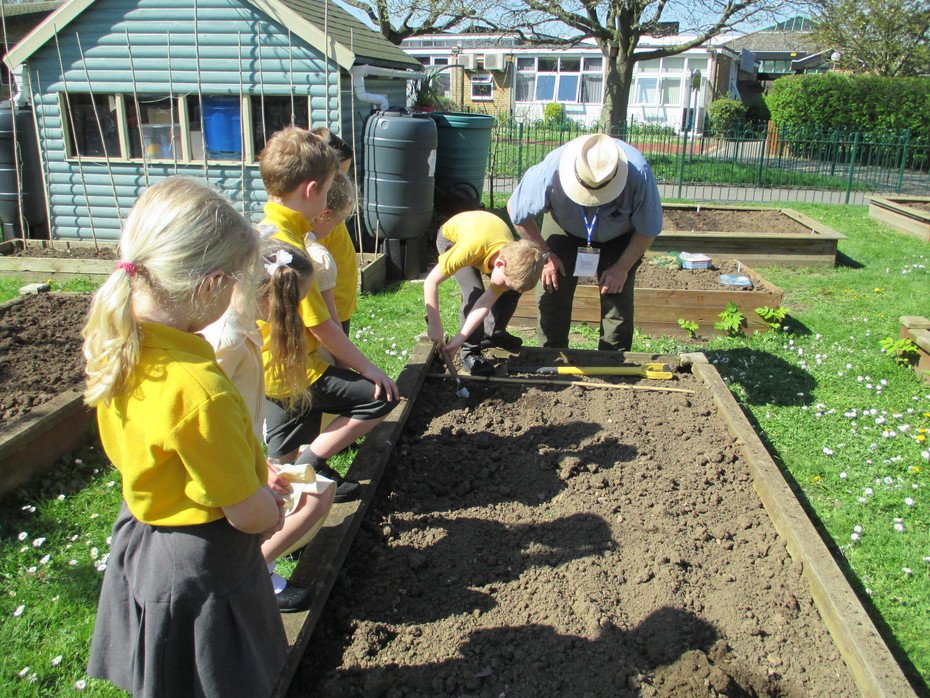 18.4.18
Class 7 enjoyed taking part in Ocean Maths today.
Dinosaur Dome
The Reception and Year 2 children enjoyed their time in the Dinosaur Dome.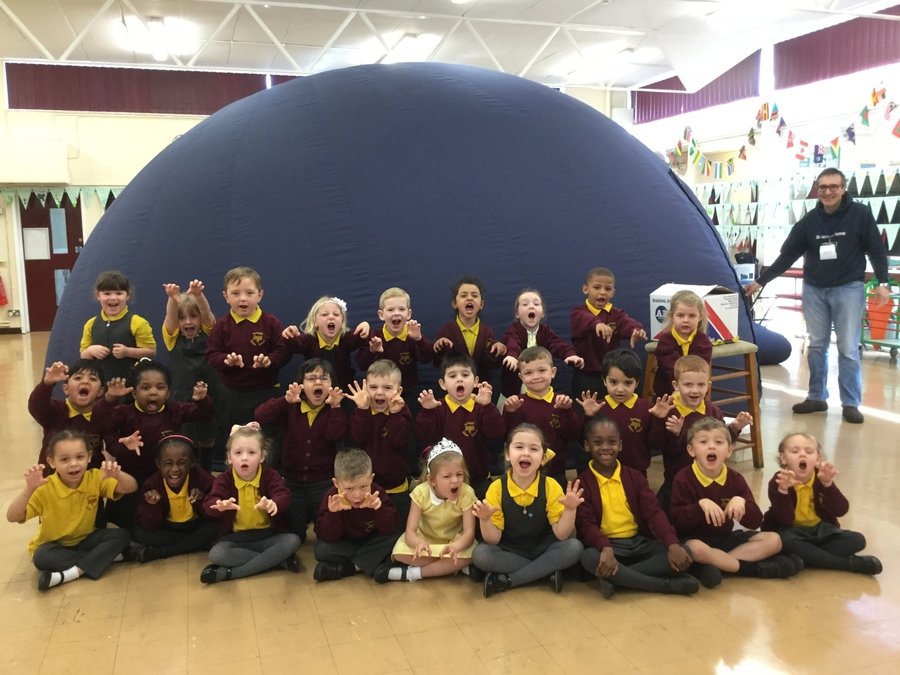 5-a-Day
All of the children took part in 5-a-Day activities in the Hall.
Year 1 Easter Egg Hunt
Dance Club
Our Dance Club sharing with their adults what they have learnt over the past 10 weeks.
Tuesday 27th March 2018
The children in Year 2 faced some of their fears this morning. Have a look at the photos to see what they got up to.
Earth Hour Assembly 23rd March 2018
Remember to turn your lights off tomorrow, 24th March, for one hour from 8.30pm until 9.30pm.
Wednesday 21st March 2018
Year 2 have been learning about the Victorians in their History lessons. To support their learning they had a visit from Queen Victoria today.
In English year 2 have been learning how to make story maps then go on to create and tell their stories. Here are a few of the children reading their stories.
WORLD BOOK DAY - 8th March 2018
All the children took part in a special assembly celebrating World Book Day. There were winners from each class who each received a prize of a book by the renowned author, Pippa Goodhart, personally signed. Take a look at the slideshow below to see some of the children's costumes.
6th March 2018
The children took park in a drama workshop today. Laura from the company Perform took the children on a journey on each of the planets where they were encouraged to join in with confidence and to use their imaginations. Peform is a drama group that can also be attended outside of school. If you would like to find out more, please go to www.perform.org.uk.
SNOW IS FALLING!
26th February 2018
We were very lucky to have a visit from the internationally renowned author Pippa Goodhart today. Pippa has written some of the Winnie the Witch stories along with many others. At the end of the day the children had an exciting opportunity to have their books signed by Pippa.
YEAR 2 CYCLE AWARENESS SESSION
Year 2 children had fun taking part in the cycle awareness days where they learnt how to ride their bikes safely and played some road safety games.
20th February 2018
Ian from Workshops for Schools also worked with our Year 1 children. They learnt all about Indian cultures through stories and dances.
19th February 2018
All of the Reception children are learning about how the Chinese New Year is celebrated. They had a visit from Ian who is from Workshops for Schools, where they listened to stories, made a dragon mask and joined in with some Chinese dragon dancing.
INTERNET SAFETY WEEK 2018
Following on from the UK Safer Internet Day on 6th February, the pupils have been sharing all week ways of how they can stay safe online. In school we regularly learn about the Safety Hand which shows five areas of information you should not share online. Ask your child if they can tell you what they are. Some of our year 2 pupils came up with their own idea to inform people about staying safe online. Take a look at their video below.
9.2.18
Quantum Threatre visited us today. Their performance was based on the story The Gruffalo and included key information about how to use punctuation.
6.2.2018
Today at Scargill Infant School we are celebrating Safer Internet Day.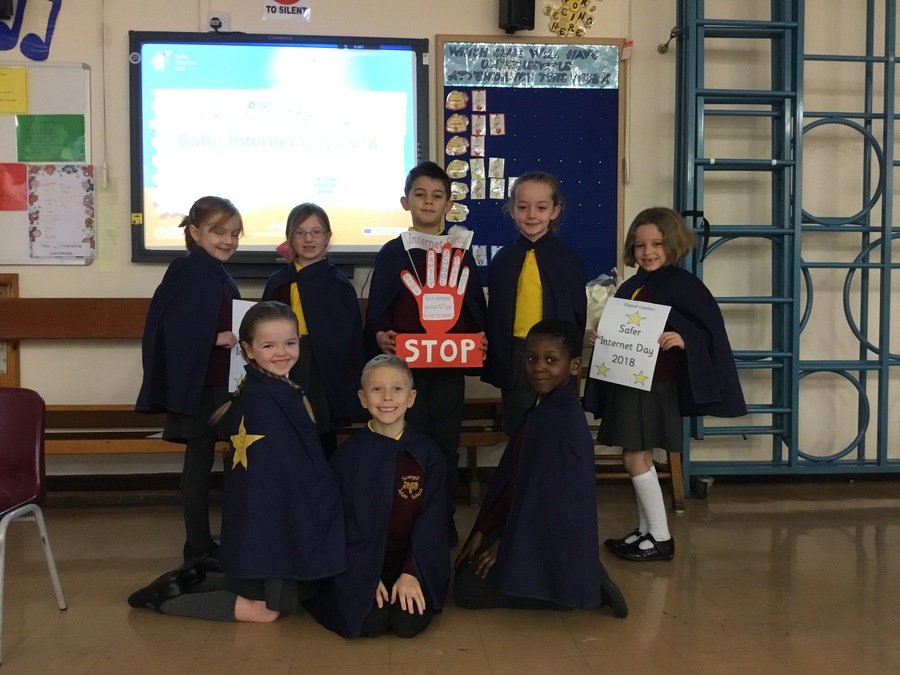 Following on from Class 7's assembly, year 2 have performed a joint version of the 7 Continents of the World Song.
Click play below to view their video.

19th January 2018
The children had a lot of fun with Carl from Kidz Fit today. He taught them about the importance of being fit and healthy by getting them to join in with a variety of activities.
16th January 2018
Today the Reception children took part in a Toy Workshop where they investigated and explored a variety of old toys and made some of their own toys which they got to take home.
19th December 2017
Today was the children's Christmas party. They had lots of fun dancing, playing games and eating party food. The biggest surprise of the day was a surprise visit from visit from a man in a big red suit who gave out a present to each child.
14th December 2017
The children and staff thoroughly enjoyed the visit from a local theatre company. They taught the children how to stay safe when crossing the road.