Pupil cuts her locks for The Princess Trust
Our year 2 pupil, Kacey 6, made a very brave and generous donation to the Little Princess Trust by having her golden tresses cut off. We are very proud of you Kacey for raising £150 for The Little Princess Trust who provide real hair wigs, free of charge, for children across the UK and Ireland who have lost their own hair through cancer treatment. For more information visit www.littleprincesses.org.uk
WELL DONE!

Friday's Kidz Fit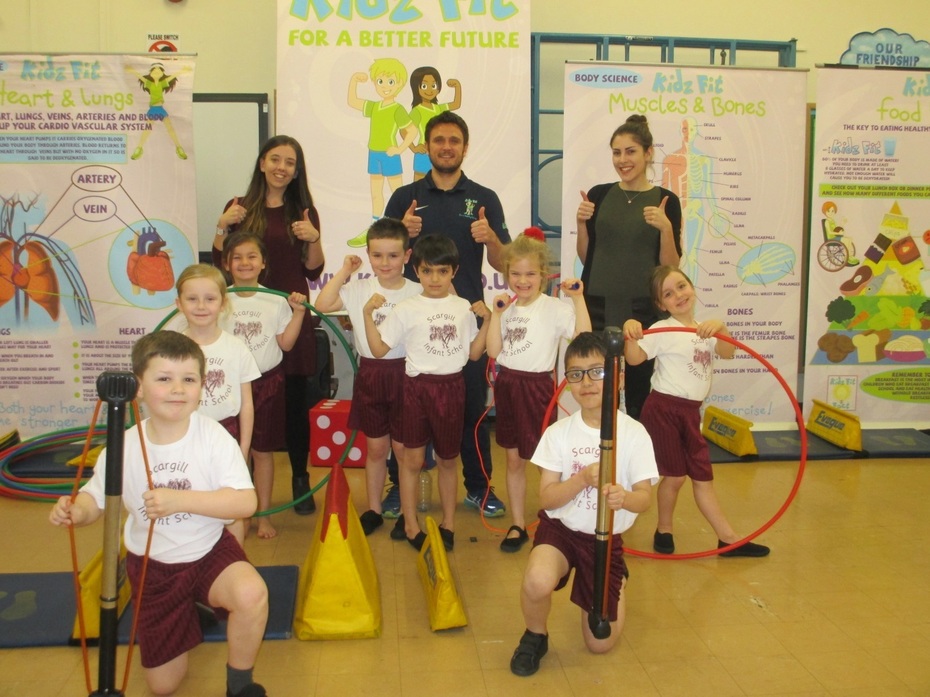 A new year, new routines. The children at Scargill Infant School, Mungo Park Road, Rainham had an exciting and energetic day. Along with their teachers they learnt how exercise makes their heart beat faster and what food they need to eat more of to stay fit and healthy. Carl McKnight from Kidz Fit said "I had a great day once again at Scargill Infants! All the children were amazing and I could tell they have been practising. Keep up the good work." The children were surprised at how so many things they do is classed as exercise like, running, jumping, swimming, riding bikes. All year groups took part throughout the day taking turns to demonstrate their fitness.
Miss McGahey, Head of School said "It's very important to learn at a young age how to keep yourself healthy through physical activities and eating healthily. Carl does this in a fun and enjoyable way enabling the children to retain their newly learned skills."

Parents Consultation Evenings - Online Appointment Booking Thursday 8th February
We have arranged a parent consultation evening between 3.30pm and 9pm where you will be able to meet the class teacher to discuss your child's progress.
The parent consultation evening this term is on Thursday 8th February. The appointments will be made using our online booking system.
Please visit https://scargillinf.parentseveningsystem.co.uk to book your appointments. It's very simple the only information required, apart from your own details, is as follows:
Childs first name
Childs surname
Date of birth
(Please use the information you gave to the school, no abbreviations)
It is very difficult to cater for children on open evening, so please arrange for them to remain at home. Children will not be allowed to play in the playground whilst you meet with the teacher. The school cannot accept responsibility for supervising your children. Thank you.
We look forward to seeing you.
Miss D. McGahey - Head of School

Parents of a Year 2 pupil
You may already be aware that as your child attends a Havering infant school the law requires you to apply for a place at the linked junior school.
Please ensure that you complete your application before the deadline of 15 January 2018. Failure to apply could mean that your child cannot transfer to the linked junior school.
The law states that first priority for school places must be given to Looked After Children and Previously Looked After Children. In Havering all community (and majority of academy) junior schools give second priority to pupils transferring from the linked infant school. If you are applying for a junior academy you are advised to check the admissions criteria before applying.
If you do have any concerns or would like to discuss this further please feel free to contact the School Admissions Team via
schooladmissions@havering.gov.uk
or by calling 01708 434600 between 12-5pm Monday to Friday.