Hornchurch Academy Trust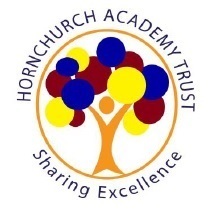 Welcome statement:
Welcome to the Hornchurch Academy Trust which was formed with three schools dated 1st September 2017. This came as a result of extensive consideration responding to the future challenges of educating our children. As of 1st September 2018 the Trust expanded to consist of five schools. As a collective we take the view that we will be stronger and more effective through collaboration and working together to serve and meet the needs of our children, families and community. By following this path, we will improve the life chances and outcomes for our children.

Mr C W Hobson - CEO
Vision and Values:
We believe that all schools within the Hornchurch Academy Trust will maintain their own unique personality, whilst sharing excellence and maximising opportunities as we move forward as a family of schools.
As a family of schools we have a strong commitment to raising standards, attainment and opportunities for our learners. We also are firmly committed to continually and incrementally improving the standards of teaching and learning by collaborating excellence across the Trust. We believe that by providing a programme of self-development and training for staff we will raise the standards of teaching, learning, progress and attainment.

We will share excellence to:

Educate to the highest standards
Develop a love of learning and as individuals, achieve their full potential
Develop resilience, confidence and independence
Encourage a positive contribution to their community

Lead Staff:
Academy CEO - Mr C W Hobson
Principal Lead for Trust Improvement - Mr R Epps
Accounting Officer - Mr C W Hobson
Academy CFO - Mrs J Sladden
Whybridge Junior School - Mr C W Hobson
Scargill Infant School - Miss D McGahey
Scargill Junior School - Mrs H Graham
Upminster Infant School - Mrs H Lendon
Upminster Junior School - Miss A Edgcombe