Hornchurch Academy Trust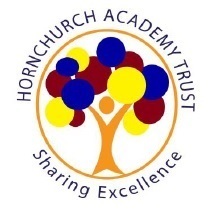 Welcome to the Hornchurch Academy Trust which has been formed as a result of extensive consideration responding to the future challenges of educating our children. As a collective we take the view that we will be stronger and more effective through collaboration and working together to serve and meet the needs of our children, families and community. By following this path, we will improve the life chances and outcomes for our children.

Introducing the Executive Leadership Team:

As we develop as a Multi Academy Trust, the three founding Headteachers from each school will form the Executive Leadership Team. This will provide the breadth of experience, skills and expertise required to drive the strategic vision and direction forward.
Mr C Hobson – CEO
Vision and Values:

We believe that all schools within the Hornchurch Academy Trust will maintain their own unique personality, whilst sharing excellence and maximising opportunities as we move forward as a family of schools.

We will share excellence to:

 Educate to the highest standards
 Develop a love of learning and as individuals, achieve their full potential
 Develop resilience, confidence and independence
 Encourage a positive contribution to their community