Nursery
In September 2023, Scargill Infant School opened a brand new Nursery on site called Keepers Cottage. It is named after Mrs Keeper as she always had a vision of opening a nursery during the 27 years of her being the Headteacher. We had the pleasure of welcoming the Mayoress, Councillor Stephanie Nunn and Mrs Keepers Husband and Daughter to celebrate the opening of the nursery.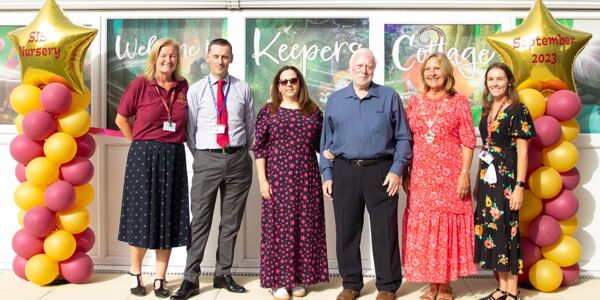 Our Nursery runs term time only for children that are 3 years old and are due to start Reception the following September. We currently take children who are three and four years old and are entitled to 15 hours funded childcare. To check if you are eligible for a 30 hour place please go to http://www.childcarechoices.gov.uk.
Our session times are as follows.
8.45am Start of the Morning Session
11.45am End of the Morning Session
11.45 to 12.15pm Lunchtime
12.15 Start of the Afternoon Session
3.15pm End of the Afternoon Session
If you would like to add your child to the waiting list please fill in our form.
If you are interested in finding out more please do not hesitate to contact us via email nursery@scargill-inf.havering.sch.uk or call the office on 01708555707.